Product Description
Product Description
Flexible couplings are used to transmit torque from 1 shaft to another when the 2 shafts are slightly misaligned. It can accommodate varying degrees of misalignment up to 3°. In addition to allowing for misalignment, it can also be used for vibration damping or noise reduction.
Encoder couplings, flexible coupling, couplings working with Encoder & all kinds of motors (servo motor, DC motor, AC motor, gear motors).
MODEL

OD(mm)

Length(mm)

Bore range(mm)

JM14

14

22

3-7

JM14C

14

22

3-6

JM16

16

22

3-7

JM16C

16

22

3-7

JM20

20

30

4-10

JM20C

20

30

4-10

JM25

25

34

4-12

JM25C

25

34

4-12

JM30

30

35

5-16

JM30C

30

35

5-16

JM40

40

66

8-24

JM40C

40

66

8-24

JM55

55

78

10-28

JM55C

55

78

10-28

JM65

65

90

12-38

JM65C

65

90

12-38

JM80

80

114

16-45

JM80C

80

114

16-45

JM95

95

126

20-55

JM95C

95

126

20-55

JM105

105

140

20-62

JM105C

105

140

20-62

JM120

120

160

20-74

JM120C

120

160

20-74

JM135

135

185

22-80

JM135C

135

185

22-80

"C" means clamp type jaw coupling   Without "C" means setscrew type jaw coupling
application
Packaging & Shipping
Company Profile
Related product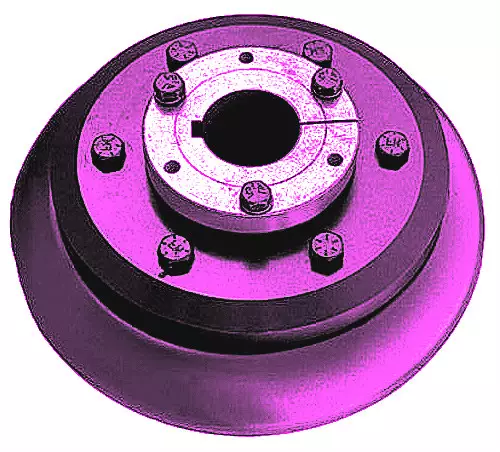 Can flexible couplings be used in hydraulic and pneumatic systems?
Yes, flexible couplings can be used in both hydraulic and pneumatic systems to connect various components and transmit power or motion. However, the selection of flexible couplings for these systems depends on specific application requirements and operating conditions.
Hydraulic Systems:
Compensating Misalignment: In hydraulic systems, flexible couplings are used to compensate for misalignment between the driving and driven components, such as pumps, motors, and actuators. Misalignment can occur due to variations in the mounting or movement of components. The flexibility of the coupling allows it to accommodate misalignment while transmitting torque efficiently.
Vibration Damping: Hydraulic systems can generate vibrations during operation, which can affect the performance and lifespan of connected components. Flexible couplings with vibration-damping properties help reduce the transmission of vibrations, providing smoother operation and minimizing wear on components.
Reducing Shock Loads: Flexible couplings absorb and dampen shock loads that may occur in hydraulic systems during rapid starts, stops, or pressure fluctuations. By absorbing these shock loads, the coupling protects connected components from potential damage.
Corrosion Resistance: Hydraulic systems may operate in environments with exposure to hydraulic fluids, which can be corrosive. Flexible couplings made of materials resistant to corrosion, such as stainless steel or specific polymers, are suitable for such applications.
High Torque Transmission: Hydraulic systems often require high torque transmission between the power source and the driven components. Flexible couplings can handle high torque levels while accommodating angular and axial misalignments.
Pneumatic Systems:
Compensation for Misalignment: In pneumatic systems, flexible couplings provide compensation for misalignment between components, such as pneumatic cylinders, valves, and rotary actuators. The ability to accommodate misalignment ensures smooth operation and reduces the risk of mechanical stress on the system.
Minimal Lubrication: Some flexible couplings designed for pneumatic systems require little to no lubrication, making them suitable for applications where oil or grease contamination is undesirable.
Low Inertia: Pneumatic systems often require components with low inertia to achieve rapid response times. Flexible couplings with low mass and low inertia help maintain the system's responsiveness and efficiency.
High Torque Transmission: Pneumatic systems can demand high torque transmission between components, such as in pneumatic rotary actuators. Flexible couplings can transmit torque effectively while compensating for potential misalignments.
Corrosion Resistance: Pneumatic systems operating in harsh environments may be exposed to moisture or chemicals. Flexible couplings made of corrosion-resistant materials are ideal for such conditions.
Overall, flexible couplings are versatile components that can be used in a wide range of hydraulic and pneumatic applications. When selecting a flexible coupling for a specific system, it's essential to consider factors such as misalignment compensation, vibration damping, shock absorption, corrosion resistance, torque transmission capability, and compatibility with the system's operating conditions.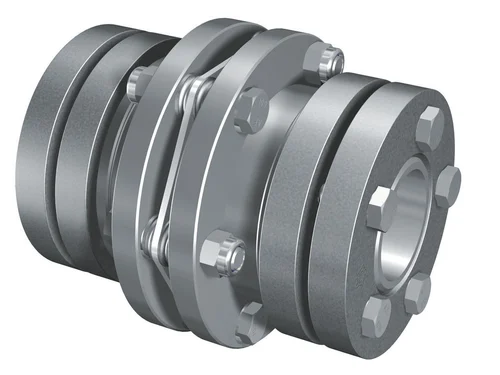 Can flexible couplings be used in power generation equipment, such as turbines and generators?
Yes, flexible couplings are commonly used in power generation equipment, including turbines and generators. These critical components of power generation systems require reliable and efficient shaft connections to transfer power from the prime mover (e.g., steam turbine, gas turbine, or internal combustion engine) to the electricity generator.
Flexible couplings play a vital role in power generation equipment for the following reasons:
Misalignment Compensation: Power generation machinery often experiences misalignment due to factors like thermal expansion, settling, and foundation shifts. Flexible couplings can accommodate these misalignments, reducing the stress on shafts and minimizing wear on connected components.
Vibration Dampening: Turbines and generators can generate significant vibrations during operation. Flexible couplings help dampen these vibrations, reducing the risk of resonance and excessive mechanical stress on the system.
Torsional Shock Absorption: Power generation equipment may encounter torsional shocks during startup and shutdown processes. Flexible couplings can absorb and dissipate these shocks, protecting the entire drivetrain from damage.
Isolation of High Torque Loads: Some power generation systems may have torque fluctuations during operation. Flexible couplings can isolate these fluctuations, preventing them from propagating to other components.
Electrical Isolation: In certain cases, flexible couplings with non-metallic elements can provide electrical isolation, preventing the transmission of electrical currents between shafts.
Power generation applications impose specific requirements on flexible couplings, such as high torque capacity, robust construction, and resistance to environmental factors like temperature and humidity. Different types of flexible couplings, including elastomeric, metallic, and composite couplings, are available to meet the varying demands of power generation equipment.
When selecting a flexible coupling for power generation equipment, engineers must consider factors such as the type of prime mover, torque and speed requirements, operating conditions, and the specific application's environmental challenges. Consulting with coupling manufacturers and following their engineering recommendations can help ensure the appropriate coupling is chosen for each power generation system.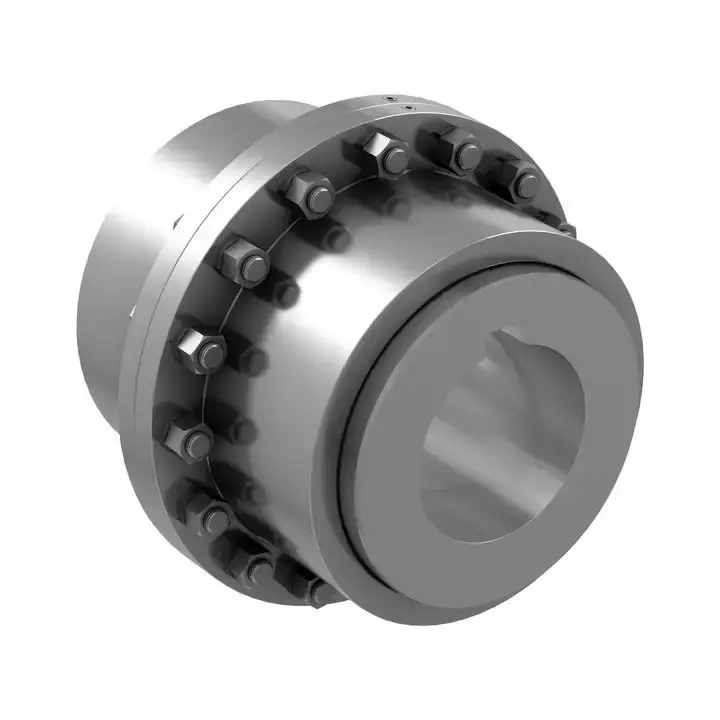 What materials are commonly used in manufacturing flexible couplings?
Flexible couplings are manufactured using a variety of materials, each offering different properties and characteristics suited for specific applications. The choice of material depends on factors such as the application's requirements, environmental conditions, torque capacity, and desired flexibility. Here are some of the commonly used materials in manufacturing flexible couplings:
Steel: Steel is a widely used material in flexible couplings due to its strength, durability, and excellent torque transmission capabilities. Steel couplings are suitable for heavy-duty industrial applications with high torque requirements and harsh operating conditions.
Stainless Steel: Stainless steel is often used to manufacture flexible couplings in environments with high corrosion potential. Stainless steel couplings offer excellent resistance to rust and other corrosive elements, making them ideal for marine, food processing, and chemical industry applications.
Aluminum: Aluminum couplings are lightweight, have low inertia, and provide excellent balance. They are commonly used in applications where reducing weight is critical, such as aerospace and robotics.
Brass: Brass couplings are known for their electrical conductivity and are used in applications where electrical grounding or electrical isolation is required, such as in certain industrial machinery or electronics equipment.
Cast Iron: Cast iron couplings offer good strength and durability and are often used in industrial applications where resistance to shock loads and vibrations is necessary.
Plastic/Polymer: Some flexible couplings use high-performance polymers or plastics, such as polyurethane or nylon. These materials provide good flexibility, low friction, and resistance to chemicals. Plastic couplings are suitable for applications where corrosion resistance and lightweight are essential.
Elastomers: Elastomers are used as the flexible elements in many flexible couplings. Materials like natural rubber, neoprene, or urethane are commonly used as elastomer spider elements, providing flexibility and vibration damping properties.
The selection of the coupling material depends on the specific needs of the application. For instance, high-performance and heavy-duty applications may require steel or stainless steel couplings for their robustness, while applications where weight reduction is crucial may benefit from aluminum or polymer couplings. Additionally, the choice of material is influenced by factors such as temperature range, chemical exposure, and electrical requirements in the application's operating environment.
Manufacturers typically provide material specifications for their couplings, helping users make informed decisions based on the specific demands of their applications.



editor by CX 2023-10-17