Product Description
SDSX Grooved Flexible Coupling
Systems & Performance
SDSX Grooved mechanical couplings(GMC) are available in both rigid and flexible models.
Flexible couplings are designed to accommodate axial displacement, rotation and a minimum 1 degree of angular movement.
Flexible couplings are used in applications
that call for curved or deflected layouts or when
systems are exposed to outside forces beyond
normal static conditions.such as seismic events or where vibration or noise attenuation are a concern.
Description
SDSX Flexible coupling is designed from 1"-12", and pressure is 300psi/2070 kPa.
Bolts/Nuts: Heat-treated plated carbon steel, meeting its mechanical properties Grade 8.8.
Gaskets: EPDM, silicon rubber and Nitrile rubber.
Dimensions
 
Nominal
Size mm/in
Pipe O.D
mm/in
Working
Pressure
PSI/MPa
Bolt Size
Dimensions mm/in
No.-Size   mm
Ø
L
H
25
1
33.7
1.327
300
2.07
2-3/8*45
60   
2.362
102 
4.016
45 
1.772
32
1¼
42.4
1.669
300
2.07
2-3/8*45
70 
2.756
106 
4.173
44 
1.732
40
1½
48.3
1.900
300
2.07
2-3/8*45
73 
2.874
108 
4.252
44 
1.732
50
2
57.0
2.245
300
2.07
2-3/8*55
83
3.268
122 
4.803
45 
1.772
50
2
60.3
2.375
300
2.07
2-3/8*55
87
3.425
123 
4.843
44 
1.732
65
2½
73.0
2.875
300
2.07
2-3/8*55
100 
3.937
138 
5.433
44 
1.732
65
2½
76.1
3.000
300
2.07
2-3/8*55
103 
4.055
142 
5.591
45 
1.772
80
3
88.9
3.500
300
2.07
2- 1/2*60
117 
4.606
166 
6.535
45 
1.772
100
4
108.0
4.250
300
2.07
2- 1/2*65
137 
5.393
188 
7.401
48 
1.889
100
4
114.3
4.500
300
2.07
2- 1/2*65
139 
5.472
190 
7.480
49 
1.929
125
5
133.0
5.250
300
2.07
2- 1/2*75
163 
6.417
210 
8.268
49 
1.929
125
5
139.7
5.500
300
2.07
2- 1/2*75
168 
6.614
218 
8.583
49 
1.929
150
6
159.0
6.250
300
2.07
2- 1/2*75
192 
7.559
242 
9.528
49 
1.929
150
6
165.1
6.500
300
2.07
2- 1/2*75
193 
7.598
241 
9.488
49 
1.929
150
6
168.3
6.625
300
2.07
2- 1/2*75
198.5 
7.815
249 
9.803
50
1.969
200
8
219.1
8.625
300
2.07
2-5/8*85
253 
9.961
320 
12.598
59
2.323
250
10
273
10.748
300
2.07
2-7/8*130
335 
13.189
426 
16.772
68
2.677
300
12
323.9
12.752
300
2.07
2-7/8*130
380 
14.96
470 
18.504
65
2.559
Material Specification
Housing: Ductile iron conforming to ASTM A-536, grade 65-45-12.
Housing Coating: Paint red and orange
• Optional: Hot dipped galvanized, electro galvanized.
Gaskets
• EPDM: Temperature range -34ºC to +150ºC. Recommended for hot water service within
the specified temperature range plus a variety of dilute acids,oil-free air and many chemical services.
 
NOT RECOMMENDED FOR PETROLEUM SERVICES.
• Silicon Rubber: Temperature range -40ºC to +177ºC. Recommended for drinking water,
hot water, high-temperature air and some high-temperature chemicals.
NOT RECOMMENDED FOR PETROLEUM SERVICES.
• Nitrile Rubber: Temperature range -29ºC to +82ºC. Recommended for petroleum products,
air with oil vapors, vegetable and mineral oils within the specified temperature range.
NOT RECOMMENDED FOR HOT WATER
SERVICES OVER +150°F/+66ºC OR FOR HOT
DRY AIR OVER +140°F/+60ºC.
Installation
Certification


Showroom
Application
Package and shipment
Production and quality control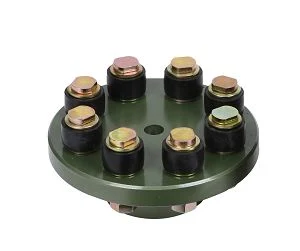 How does a flexible coupling deal with backlash and torsional stiffness?
A flexible coupling deals with backlash and torsional stiffness in the following ways:
Backlash: Backlash refers to the play or clearance between mating teeth in mechanical systems. In certain couplings, such as gear couplings, some degree of backlash is unavoidable due to the space between the teeth. However, flexible couplings with elastomeric or beam-type elements typically have minimal to no backlash. The flexibility of these elements allows them to maintain continuous contact and transmit torque smoothly without any gaps or play between components.
Torsional Stiffness: Torsional stiffness is the ability of a coupling to resist rotational deformation or twisting under torque. It is essential to have adequate torsional stiffness in some applications to ensure accurate motion transmission and responsiveness. Flexible couplings exhibit a balance between torsional stiffness and flexibility. While they allow for a degree of angular and parallel misalignment, they still possess sufficient torsional stiffness to transmit most of the torque efficiently. This characteristic helps maintain the precision of motion control systems and prevents power losses due to deformation.
The design and materials used in flexible couplings contribute to their ability to address both backlash and torsional stiffness effectively. Here are some key features:
Elastomeric Elements: Couplings with elastomeric elements, such as rubber or polyurethane, provide excellent flexibility to absorb misalignments and dampen vibrations. They also exhibit minimal backlash as the elastomeric material maintains continuous contact between the coupling components.
Beam-Type Couplings: Beam-type couplings use thin metal beams to transmit torque. These couplings offer high torsional stiffness while still accommodating misalignments. The beams can flex slightly under torque, absorbing shocks and compensating for misalignment without compromising torsional rigidity.
Composite Couplings: Some flexible couplings use composite materials that combine the advantages of different materials to achieve specific performance characteristics. These composites can offer low backlash and precise torsional stiffness, making them suitable for demanding applications.
High-Quality Manufacturing: The precision manufacturing of flexible couplings ensures that components fit together with minimal clearances, reducing backlash. Additionally, high-quality materials contribute to better torsional stiffness and overall performance.
Overall, flexible couplings strike a balance between flexibility to accommodate misalignments and sufficient torsional stiffness to transmit torque efficiently. By effectively addressing backlash and torsional stiffness, these couplings contribute to the smooth and reliable operation of various mechanical systems.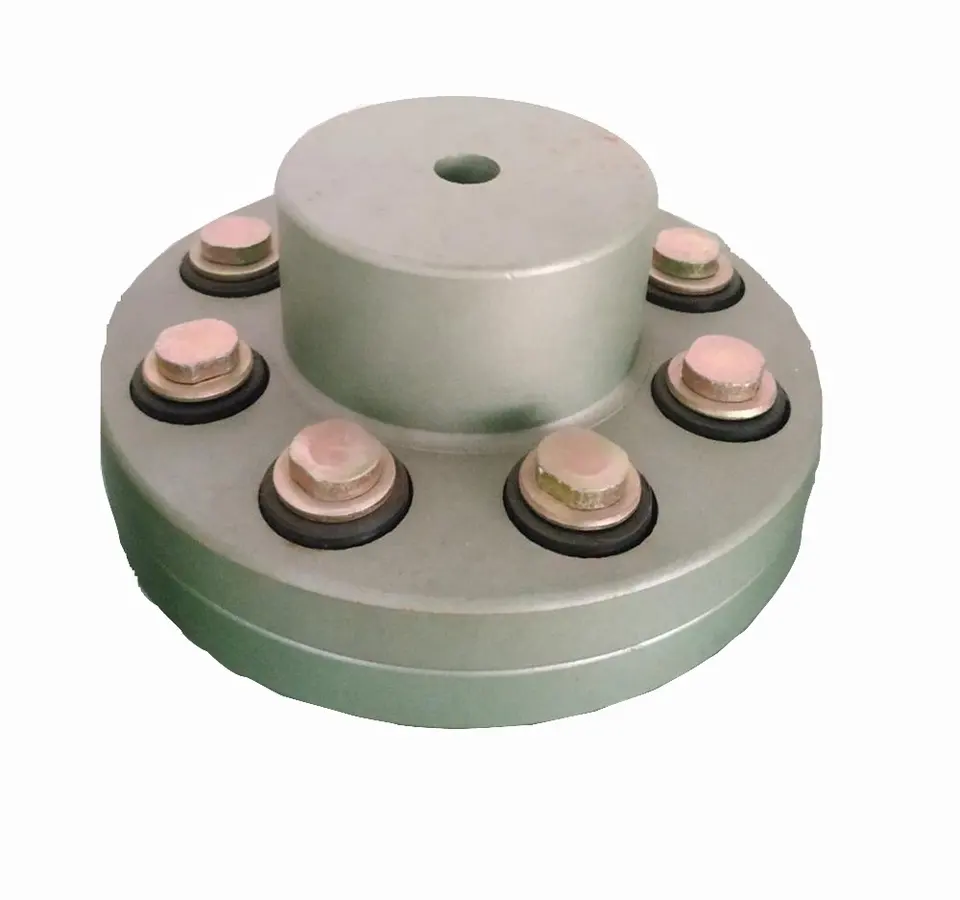 How does a flexible coupling help in torque and rotational speed control?
A flexible coupling plays a crucial role in torque and rotational speed control in rotating machinery. It offers several benefits that contribute to efficient power transmission and help maintain desired operating conditions:
Torque Transmission: Flexible couplings transmit torque from one shaft to another while accommodating misalignments. They provide a reliable connection that allows the driving shaft to transfer rotational force (torque) to the driven shaft without causing undue stress on the connected components.
Smooth Power Transmission: Flexible couplings help reduce shocks and vibrations that can occur during startup, shutdown, or sudden load changes. By damping these vibrations, the coupling ensures smooth power transmission and protects the connected equipment from unnecessary wear.
Rotational Speed Control: In certain applications, especially those involving precision motion control, maintaining consistent rotational speed is critical. Flexible couplings can help by minimizing backlash and torsional wind-up. Backlash refers to the play or gap between the coupling's components, while torsional wind-up is the twisting deformation that can occur under torque load. Flexible couplings with low backlash and high torsional stiffness contribute to accurate rotational speed control.
Compensation for Misalignment: Rotating machinery may experience misalignment due to various factors such as thermal expansion, foundation settling, or machining tolerances. Flexible couplings accommodate angular, parallel, and axial misalignments, which helps in maintaining proper alignment between the shafts and reduces unnecessary torque variations.
Protection from Overloads: Flexible couplings can act as a mechanical fuse by disengaging or slipping when subjected to excessive torque loads. This feature protects the connected components from damage caused by sudden overloads or jamming events.
Energy Efficiency: Certain types of flexible couplings, such as elastomeric couplings or beam couplings, have low mass and inertia. This characteristic reduces energy losses and contributes to overall system efficiency.
By providing reliable torque transmission, smooth power transfer, rotational speed control, and compensation for misalignment, flexible couplings optimize the performance and longevity of rotating machinery. Additionally, they enhance the safety and efficiency of various industrial processes by protecting equipment from excessive loads and ensuring smooth operation in diverse applications.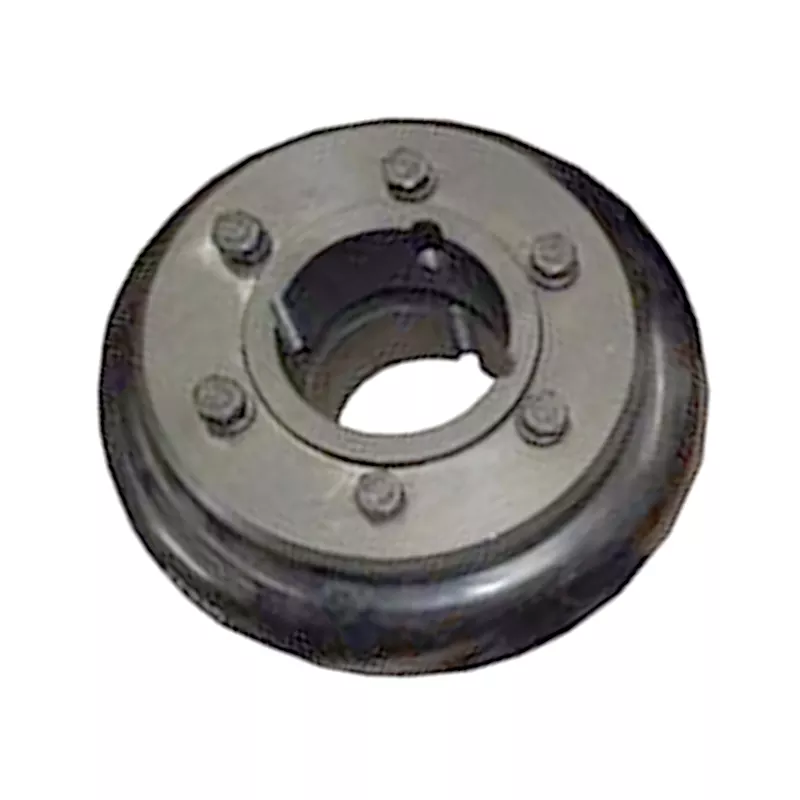 Can you explain the different types of flexible coupling designs available?
There are several types of flexible coupling designs available, each with its unique construction and characteristics. These designs are tailored to meet specific application requirements and address different types of misalignment and torque transmission needs. Here are some of the most common types of flexible couplings:
Jaw Couplings: Jaw couplings consist of two hubs with curved jaws and an elastomer spider placed between them. The spider acts as a flexible element and can compensate for angular and parallel misalignment. Jaw couplings are widely used in various industrial applications due to their simple design and effectiveness in handling misalignment and vibration damping.
Disc Couplings: Disc couplings use thin metallic discs with a series of alternating slits and flanges to connect the shafts. The disc coupling design allows for excellent misalignment compensation, including angular, parallel, and axial misalignment. Disc couplings are known for their high torsional stiffness and precise torque transmission capabilities.
Gear Couplings: Gear couplings consist of toothed hubs connected by an external sleeve with gear teeth. They are well-suited for applications with high torque and moderate misalignment. Gear couplings offer good misalignment compensation and high torque capacity, making them popular in heavy-duty industrial applications.
Beam Couplings: Beam couplings use a single piece of flexible material, often a metal beam, to connect the shafts. The material's flexibility allows for angular and axial misalignment compensation. Beam couplings are compact, lightweight, and provide low inertia, making them suitable for applications with high-speed requirements.
Bellows Couplings: Bellows couplings consist of a bellows-like flexible structure that connects the two hubs. They can compensate for angular, parallel, and axial misalignment. Bellows couplings are known for their high torsional stiffness and ability to maintain constant velocity transmission.
Oldham Couplings: Oldham couplings use three discs, with the middle one having a perpendicular slot. This design allows for angular misalignment compensation while transmitting torque between the hubs. Oldham couplings are often used when electrical isolation between shafts is required.
Each flexible coupling design has its strengths and limitations, and the choice depends on factors such as the application's torque requirements, misalignment conditions, operating environment, and speed. Proper selection of the coupling type ensures optimal performance, efficiency, and reliability in various mechanical systems and rotating machinery.



editor by CX 2023-08-04