Product Description
Product Description
1 Good quality with competitive prices.
2 For Free Samples
3 Prompt delivery
4 International Approvals
Coupling:
1. Jaw coupling/ HRC coupling / KC coupling / FL coupling
2. Flange cast iron, Insert Bubber
3. Taper bore universal series
4. Keyway dimensions conform to DIN6885, GB1095-1979 standards.
 
Product Attribute
| | |
| --- | --- |
| Material | Low Carbon Steel |
| Surface Finishing | Zinc Plated |
| Customized | Non-Customized |
| Connection | Flange |
| port | ZheJiang |
| payment | L/C, T/T, D/P, Western Union, Paypal |
| package | Woddencase Suitable for Sea Shipping/Airfreight |
Detailed Photos
Product Parameters
Certifications
Our Advantages
Packaging & Shipping
WHY CHOOSE US
Comprehensive Product Portfolio We produce and supply a wide range of power transmission
products including drive chains, leaf chains, conveyor chains, agricultural chains, sprockets, and
couplings. This one-store-for-all shopping experience will significantly reduce your searching costs while
guarantee youfind what you want at 1 click.
Value Choice Products Our products are the best combination of quality and price, and you get what
you want within your budgets
Seasoned Sales Associates and Engineers We have 15 seasoned sales associates and 5 engineers;
on our team at your disposal any time when you need a helping hand. They are well trained with industry
know-now and will always respond to your requests within 24 hours.
100% Customer Retention Rate Our regular customers from overseas come back not just for our
premium quality products, but for the superior services that we've provided over the years
FAQ
Q1: What's your average lead time?
A: It varies. Our regular end-to-end lead time is 1-2 months.. We also provide express shipments for rush orders. For details,please consult our sales associate.
Q2: Is your price better than your competitors given the same quality?
A: Definitely YES. We provide the most competitive price in the power transmission industry. If price disparity exists, we'll be more than happy to do a price match.
Q3: Can you make chains according to my CAD drawings?
A: Yes. Besides the regular standard chains, we produce non-standard and custom-design products to meet the specific technical requirements. In reality, a sizable portion of our production capacity is assigned to make non-standard products.
Q4: Can we inspect the goods before shipment?
A: Yes. You or your representative or any third-party inspection party assigned is allowed access to our facility and do the inspection.
Q5: What kind of payment method is acceptable for your mill?
A: We're flexible. We take T/T, L/C, or any other online payment methods so long as it's applicable for you.
Q6: What if I have any other questions?
A: Whenever in doubt, you're always encouraged to consult our sales associate any time - They will help you to your satisfaction.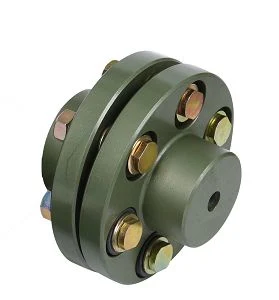 What are the real-world applications of flexible couplings in various industries?
Flexible couplings are widely used in a variety of industries to transmit power and motion between rotating shafts while accommodating misalignments and reducing vibrations. Some of the real-world applications of flexible couplings include:
Industrial Machinery: Flexible couplings are extensively used in industrial machinery such as pumps, compressors, fans, mixers, and conveyors. They help transmit power from motors to driven equipment, while absorbing misalignments and reducing shock loads and vibrations.
Automotive: In the automotive industry, flexible couplings are used in various applications, including drive shafts, steering systems, and engine accessories. They help transmit power and motion while allowing for misalignment and reducing torsional vibrations.
Aerospace: In aircraft and aerospace applications, flexible couplings are used in engine systems, landing gear, and flight control systems. They provide reliable power transmission while accommodating misalignment and reducing vibrations in the demanding aerospace environment.
Marine: Flexible couplings are used in marine propulsion systems to connect the engine to the propeller shaft. They help transmit power and motion while compensating for shaft misalignment and reducing vibrations in marine vessels.
Renewable Energy: In wind turbines and solar tracking systems, flexible couplings are used to transfer power and motion between the turbine or solar panel and the generator. They allow for misalignment caused by wind and sun direction changes, ensuring optimal energy conversion.
Oil and Gas: In the oil and gas industry, flexible couplings are used in pumps, compressors, and drilling equipment. They provide reliable power transmission while accommodating misalignments and reducing vibrations in harsh and demanding oilfield environments.
Mining and Construction: Flexible couplings are used in heavy-duty mining and construction equipment, including excavators, bulldozers, and loaders. They help transmit power from engines to drive systems while compensating for misalignments and reducing vibrations in rugged and challenging environments.
Food and Beverage: In food processing and packaging machinery, flexible couplings are used to transmit power and motion while meeting strict hygiene and safety requirements. They help prevent contamination while accommodating shaft misalignments.
Medical Equipment: Flexible couplings are used in medical devices and equipment, including imaging machines and robotic surgical systems. They help transmit motion and power while reducing vibrations and maintaining precision.
Textile Industry: In textile manufacturing machines, flexible couplings are used in spinning, weaving, and dyeing processes. They help transmit power efficiently while accommodating misalignments and reducing vibrations during high-speed operation.
These are just a few examples of the diverse applications of flexible couplings in various industries. Their ability to enhance power transmission efficiency, accommodate misalignments, and reduce vibrations makes them a versatile and indispensable component in modern machinery and equipment.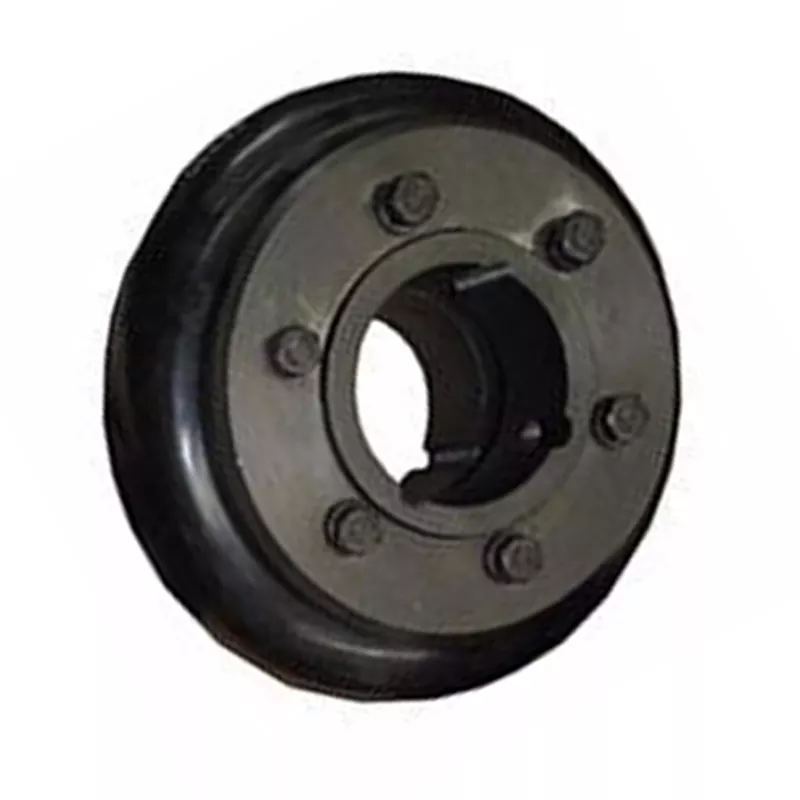 How does a flexible coupling handle misalignment in large rotating equipment?
Flexible couplings are designed to accommodate various types of misalignment in large rotating equipment, ensuring smooth and efficient power transmission while minimizing stress on connected components. Here's how flexible couplings handle different types of misalignment:
Angular Misalignment: Angular misalignment occurs when the axes of the two connected shafts are not collinear and form an angle. Flexible couplings can handle angular misalignment by allowing the coupling elements to flex and move slightly, thus accommodating the angle between the shafts. The flexible elements, often made of elastomeric materials or metallic membranes, can bend and twist to compensate for angular misalignment, ensuring that the coupling remains engaged and transfers torque effectively.
Parallel Misalignment: Parallel misalignment, also known as offset misalignment, happens when the two shafts are not perfectly aligned along their axes, resulting in a lateral shift. Flexible couplings can handle parallel misalignment through their ability to move radially, allowing the flexible elements to adjust and take up the offset. This capability prevents excessive side loads on the shafts and bearings, reducing wear and increasing the lifespan of the equipment.
Axial Misalignment: Axial misalignment occurs when there is a linear displacement of one shaft relative to the other, either toward or away from the other shaft. Some flexible couplings, such as certain types of flexible disc couplings, can accommodate a limited amount of axial misalignment. However, for large axial movement, other types of couplings or special designs may be required.
The flexibility of the coupling elements allows them to act as a buffer between the shafts, dampening shocks, vibrations, and torsional forces caused by misalignment or other dynamic loads. This helps protect the connected equipment from damage and enhances the overall performance and reliability of the rotating system.
In large rotating equipment, where misalignment is more common due to thermal expansion, foundation settling, or other factors, flexible couplings play a critical role in maintaining smooth operation and reducing stress on the machinery. However, it is essential to choose the appropriate type of flexible coupling based on the specific requirements of the application and to regularly inspect and maintain the coupling to ensure optimal performance and longevity.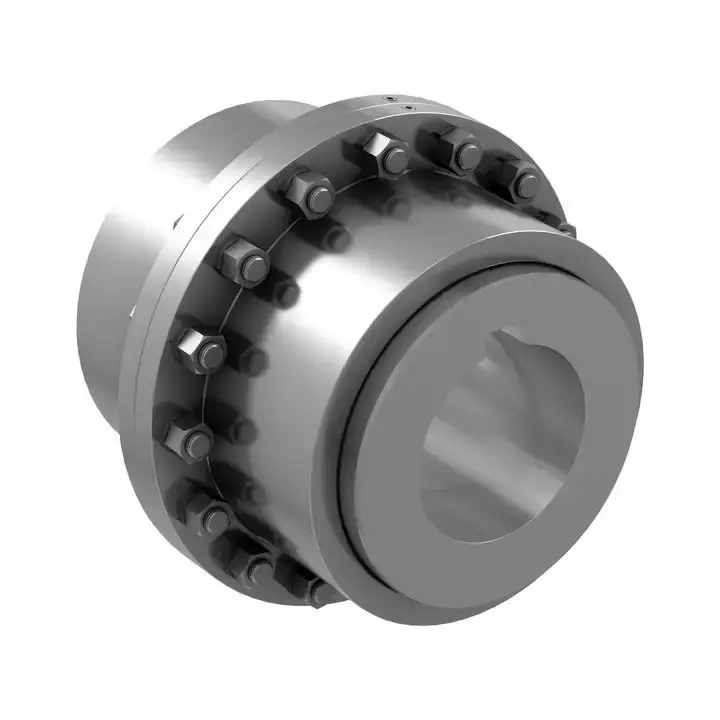 What materials are commonly used in manufacturing flexible couplings?
Flexible couplings are manufactured using a variety of materials, each offering different properties and characteristics suited for specific applications. The choice of material depends on factors such as the application's requirements, environmental conditions, torque capacity, and desired flexibility. Here are some of the commonly used materials in manufacturing flexible couplings:
Steel: Steel is a widely used material in flexible couplings due to its strength, durability, and excellent torque transmission capabilities. Steel couplings are suitable for heavy-duty industrial applications with high torque requirements and harsh operating conditions.
Stainless Steel: Stainless steel is often used to manufacture flexible couplings in environments with high corrosion potential. Stainless steel couplings offer excellent resistance to rust and other corrosive elements, making them ideal for marine, food processing, and chemical industry applications.
Aluminum: Aluminum couplings are lightweight, have low inertia, and provide excellent balance. They are commonly used in applications where reducing weight is critical, such as aerospace and robotics.
Brass: Brass couplings are known for their electrical conductivity and are used in applications where electrical grounding or electrical isolation is required, such as in certain industrial machinery or electronics equipment.
Cast Iron: Cast iron couplings offer good strength and durability and are often used in industrial applications where resistance to shock loads and vibrations is necessary.
Plastic/Polymer: Some flexible couplings use high-performance polymers or plastics, such as polyurethane or nylon. These materials provide good flexibility, low friction, and resistance to chemicals. Plastic couplings are suitable for applications where corrosion resistance and lightweight are essential.
Elastomers: Elastomers are used as the flexible elements in many flexible couplings. Materials like natural rubber, neoprene, or urethane are commonly used as elastomer spider elements, providing flexibility and vibration damping properties.
The selection of the coupling material depends on the specific needs of the application. For instance, high-performance and heavy-duty applications may require steel or stainless steel couplings for their robustness, while applications where weight reduction is crucial may benefit from aluminum or polymer couplings. Additionally, the choice of material is influenced by factors such as temperature range, chemical exposure, and electrical requirements in the application's operating environment.
Manufacturers typically provide material specifications for their couplings, helping users make informed decisions based on the specific demands of their applications.



editor by CX 2023-09-11